GETTING READY TO GET SWEATY
How to prepare for class? Make sure you have a good yoga mat, towel, and plenty of water. Make sure you are wearing clothes that you can move and sweat in easily. If you happen to forget something, we offer all of the above for sale. Most importantly, make sure you come to your mat with an open mind and are ready for a challenge!
Avoid eating big meals for at least 2 hours before class.

Arrive 10-15 minutes before the class start time.

Check in at the front desk, even if you signed up online.

Inform the instructor of any pertinent injuries or limitations.

Remove shoes in the lobby area.

Leave your belongings in the cubbies provided in our changing rooms.

Turn cell phones on silent and leave them outside the yoga room or in your car.

Be familiar with Class Etiquette (see below).

New to practicing? Place your mat in the middle or back of the yoga room so that other students may be your guide.

Be prepared to sweat and stay in the yoga room for the entire class.
Come to class fully hydrated and drink lots of water after class to replenish lost fluids from your yoga practice. Did we mention HYDRATE? In a heated yoga class, you can sweat up to a liter and a half of water (that's a couple of pounds of water weight), and it needs replacement. So drink lots of water BEFORE you come to class.

If you find yourself guzzling water during class or experiencing headaches or dizziness after class, you may be dehydrated. Try drinking more water before you come to class.

Add a natural electrolyte enhancer to your water.

Coconut Water has all five key electrolytes: potassium, magnesium, phosphorus, sodium, and calcium. Great to drink before or after class. Coconut water is available for purchase at the studio.
Arrive early to every class. All classes start on time!

Please refrain from wearing perfume or scented lotions or oils. Your fellow practitioners may be sensitive to these smells.

Observe silence in the hot room for Yoga classes, before, during, and after class. The Yoga room is a quiet meditative space. How you enter and leave the yoga room is part of your practice. The lobby is a great place to connect and catch up with others.

Make room for others. Everyone should feel welcome.

Unlike yoga, we encourage you to cheer your training partners on in our Pilates and Sculpt classes.

Understand that becoming lightheaded or nauseous is completely normal the first few times you practice yoga in the heat.

Know that yoga is a practice; it takes time to cultivate!

Our instructors are always available after class for any questions you may have.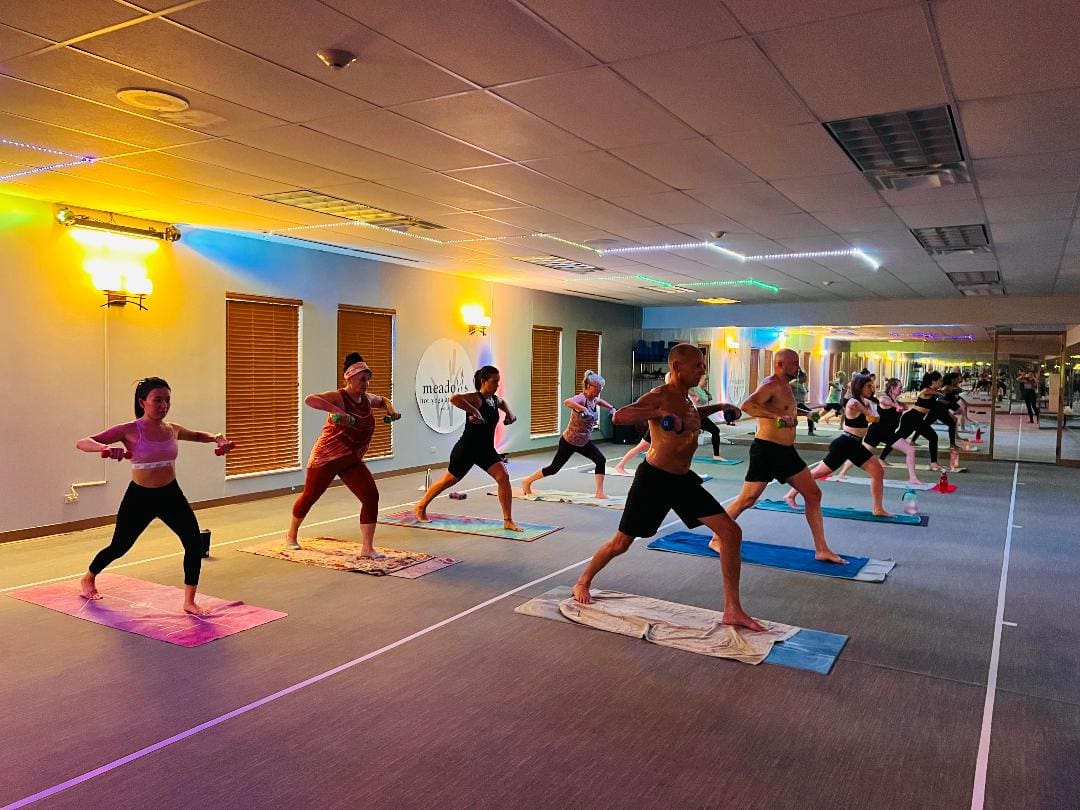 Be prepared to sweat! The heat combined with our workouts is what makes Drip Hot Yoga and Fitness so special. The room is heated to warm muscles, which allows you to work deeper in a shorter amount of time, seeing results faster. Heat takes the trauma out of stretching, heals, and helps prevent injuries. Yoga is not just about working muscles: you are massaging deep tissues, glands, and organs as well. As you work deep within your body, you may start to release "poisons" or "toxins" that have been stored there for a long time. Your skin is the largest elimination organ in your body. Sweating helps flush toxins from your body, giving you a wonderful glow from head to toe.
Learn to love your sweat rather than constantly wiping. Wiping causes you to sweat more. Your sweat is your body working to keep you cool. Embrace it.
It is not unusual to feel nauseous or dizzy during your first class. Usually, the problem is that we do not drink enough water for daily living, let alone for exercising in a heated room. Nutritionists tell us that we need 64-80 ounces of water a day to help the body function properly. If you feel disoriented or like you need a good nap after your first few classes, this is likely because your body has begun to cleanse itself as a result of the yoga practice. Don't be scared. After the first few classes, this sensation will pass. The more you can relax as you give your full effort during class, the more energized you will feel throughout the class and throughout the rest of your day.
Take it to the Finish
Stay in the room for the duration of the entire class. Take savasana if you need to rest, and please try not to leave the room except in cases of illness or other real emergencies. The intention is to keep everyone focused and in the present and to allow your body to acclimate to practicing in a heated room.
Embarking on a new yoga and fitness practice is so exciting. Be safe, be happy, and enjoy! Contact us with any questions.